Thomas Kinkade died in early April at age 54.
You may know his work? 'S
entimental scenes of country gardens and pastoral landscapes in dewy morning light that were beloved by many but criticized by the art establishment
.'
Reviled
by the art establishment,
a kitschster without rival
,
mall-art....
I don't like Kinkade's work- at all. However, I almost didn't like it before I had even seen a single image due to classroom joke's and derogatory references.( I also didn't understand the references to Bob Ross either ). I would usually snort and nod in agreement and then write the name down so that I could look the person up that night on the internet. I hate the idea of disliking someone and their work intensely without, in Aussie terminology, giving them a fair go. Like a good critique.
So I looked him up on the internet....
He was practically a local, born and raised in

Placerville, CA

. He studied at the

University

of

California at Berkeley and the Art Centre College of Design in Pasadena.

When he was young he traveled by boxcar from

California

to

New York with fellow artist, James Gurney, sketching the landscape along the way which they had published in 1982- "The Artist Guide to Sketching". I looked it up and it seems it has become a bit of a collectible since his death. Amazon has it ranging from $499 to $950!
The sketch book helped him land him a job creating background art for the animated film, 'Fire and Ice'

by

by Ralph Bakshi and and Frank Frazetta. Bakshi wrote '

Thomas Kinkade was for me at his very young age already a brilliant painter…. I gave him the job of painting backgrounds for my movie. He nailed it, which really was impossible for anyone else with no experience – but not for him.'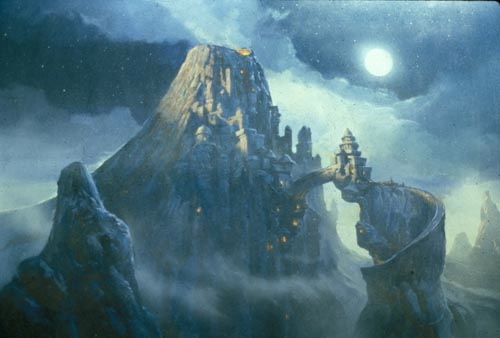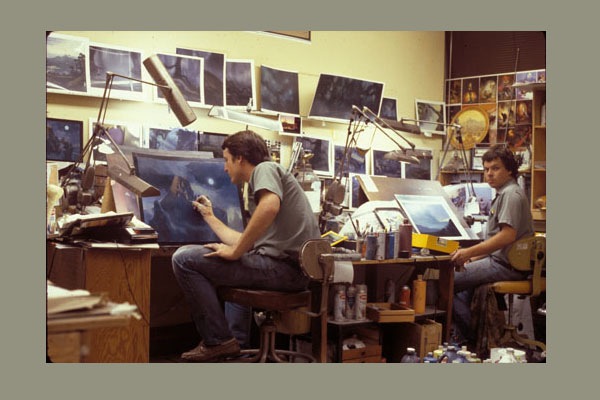 Kinkade left, Gurney right
Paul Chadwick
, an old roommate from the
Art
Centre
College
also wrote recently "His frontier scenes, in the manner of
John Stobart
and his
Bierstadt
influenced
Yosemite
paintings, were great. Anybody repelled by his shining, cute cottages should reserve final judgment until they've seen these…the guy could paint....".
I can't find images of these paintings. However, he did paint under the 'brush' name of Robert Girrard (1984- 1989) for awhile, in order to to experiment with impressionism.
Robert Girrard piece
Robert Girrard
early self portrait
early work called 'Two Cats'
In the 1980s

Kinkade

became a born-again Christian. The change coincided

with a shift in his career path- he moved his focus to retail, not on the traditional gallery system.
He sold his work through a franchise of galleries, cable television home shopping networks, and eventually online. He made no apologies for commercializing the art.
Apparently a Kinkade picture hangs in one out of 20 American homes. His images

are reproduced in books, on posters, canvas prints, hand-signed lithographs, collector's plates,

postcards, calendars, coffee mugs, puzzles, snoglobes, home furnishings and, the pièce de résistance, a gated community in Vallejo!
Sales for his works and associated products were reported to have reached $100 million annually.
So why was (and is) he so popular?????
Perhaps the most succinct summation I have found was from the Daily Beast- '
He captures, with chilling accuracy, a strangely American combination of blinkered nostalgia, blind complacency, and a ferocious resistance to change. And then he packages and sells that vision within a no-holds-barred consumerist culture that you wouldn't think compatible with pictures of commerce-free townships twinkling by snow light.'
In the past couple of years

Kinkade

has had dubious business dealings, galleries have declared

bankruptcy

and people have gone unpaid.
Knowing more does not change the fact that I find his work insipid....
I do wonder though, if I hit upon a 'winning
formula
' would I pursue it so formidably?